Did you know that The U.N. General Assembly designated 2016 as the International Year of Pulses, a grain legume known for its high protein and nutritional content as well as being a hearty crop.
OH. MY. GOD. LEGUMESSSSSS!!!!!! (Psst. That's just a fancy word for beans.)
Mindblowning fact, I know.
On to a teensy bit more fascinating info: This is my 7th year in review! Lucky number 7. Where's memory lane, you ask? This way: Here's one. And this. And see this one too.
But… I'm about to get real here… I didn't think I was going to do one this year. NSTATMT (That's No Such Thing As Too Much Truth), but between thinking no one was going to read it to that orange dude that is taking over our country soon, I wasn't feeling sassy enough to celebrate.
But then I stood up (Kinda, it's more like I sat up straighter. I was in the car. I was driving to Trader Joe's when I came to this internalized debate. I was desperately craving their Peppermint Candy Joe Joes cookies . They're like Oreos, but with peppermint filling. I'm obsessed with them and they only make them during Christmas time which is kinda cool because, I mean, hellllllo let's eat the whole box in one sitting! And if they were available all year long I'd basically either a blood sugar level of Willy Wonka or rolling through town like that giant boulder from Indiana Jones which means I wouldn't fit in any of the new pants I just got and I like these new pants — they're soft. So, thank you Trader Joe's marketing people for making these cookies last for only a month. ) and thought what Jack McFarland says below:
d
And that just isn't an island I want to live on… unless there's a bar… annnd limbo competitions. Then I could probably get by… for a few months.
Anyway,  I decided that THE SHOW MUST GO ON.
So, tadaaaaaaaa…
It was the Chinese year of the monkey, the year Harriet Tubman was announced to be on the $20 bill (!!!), Taylor and Kanye West got in to a ridiculous Snapchat feud, and when Hamilton DOMINATED theater and politics in a way that should be a reminder that art is what makes life matter. (So keep on going to art/music/acting/collage-making school, kids  — we NEED YOU.) It was the year Full House made a comeback as Fuller House and the same year we all wondered WHEN WILL THE FELICITY REUNION HAPPEN? Ohhh. No one else was wondering that? Kay. Cool.
It was the year the summer Olympics gave TONS of medals to USA and then drowned us in swimmer drama aka #Lochtegate. It was the year we entered in to a Leap Year then Brexited with so much political trauma in the world — London's divided vote, endless terrorists takes around the world and of course, our brand new "president" — that made that extra day in leap year seem wayyyy longer then it needed to be.
It was the year the first ever flower grown in space (a zinnia!) bloomed, the Zika virus from South America became a terrifying concern, and the first solar powered plane around the world — but, don't worry, I'm totally sure baggage fees still apply.
It was the year the Cubs won the World Series!!!!!!!!!!!!!!!!!!!!!!!!!!!!!!!!!!!!!!!!!!!!!!!!!!!!!!!!!!!!!!!!!!!!!!!!!!!!!!!!!!!!!!!!!!!!!!!!!!!!!!!!!!!
It was the year Beyoncé surprised us with another album and made people (just me?) DROP EVERYTHING and buy HBO for a month even though I don't watch HBO I'd watch HBO for Beyoncé. Let's be honest, I'd even pay for PBS if it meant I got to see something special by Beyoncé. Which reminds me, we should all donate to PBS — it's super important and they have amazing swag bags. I mean, just look at her go:
It was the year I also fell in love with this song:
And this song pretty much changed my life forever:
I fell for this book.
This Installation artist:
It was the year we lost countless talent. I mean, the list is so long it hurts to even put my fingers on the keyboard to start typing the names. And while great talents are forever gone, what is even more tragic is that it was the year we lost countless lives to violence, senseless angered violence that is becoming the norm. Shootings. Mass shootings: Dallas, Chicago, Cleveland, and Orlando. Orlando. The largest mass shooting victim count was at a gay bar in Orlando. 53 people were killed. 53 people that were in a bar to feel safe had their lives taken. This is not OK… none of this is OK.
We had to find light in the dark of this year. This year, man, has had some darkness. So sometimes we have to find things that make us laugh. Luckily the freedom of expression though GIFs hasn't been outlawed by our president elect's freedom of speech amendment concerns shut down like Vine was this year. This particular one had me living for obvious reasons: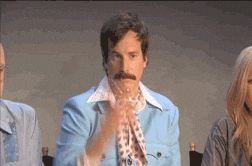 It was the year Nate and I made it to Bangkok, Thailand and began realizing how spirituality can make you feel:
And Phuket, Thailand
And Big Sur where I learned nature is spirituality:

And Chicago is flawless:
And Palm Springs is my spirit animal:
It was the year I started my 2nd year of teaching 4th and 5th graders. A job I have never been more thankful to work within these walls. These kids are carving me in to a better human. It's a true gift to be their teacher.
It was the year I sat so close with Beyoncé during her Lemonade tour that I could have smelled the finger polish on her toe nails. Wait, ew. Was that too much? Sorry.
It was the year I fell for the cult Soulcycle which has put my body and health in the best shape it's been…ever.
It was the year I got to be my little bro's best man — an honor I've been waiting to hold for so many eons. Being his best man reminds me of how lucky I am to have a brother and a family I adore and whom adores me.
It was the year I celebrated 3 years married and 7 years together with a guy that makes me more patient, smile bigger and a better dishwasher filler.
While I was fortunate that much of the year was beautiful in my personal life, the year still ignited many conflicted feelings in me. It was a really long, awkward and confusing year. It was emotional. It was overwhelming.
See, our new president scares me. There's a lot of people saying "Give him a chance!" or "We'll be fine!" or "Stop whining about losing!"  — but it's bigger than that. It's about complacency and lack of truly educating ourselves on the perspectives of others and the needs of all. I know many feel better standing for what they believe in a Facebook post or debating with like minded or not-so-like minded individuals, but my weapon against what has happened is teaching.
I believe that teaching using our actions and living what we want to see will inspire others so others and is the best way we are going to truly evolve and survive. It is my goal to teach my little students to be the best humans they can be — to live with their hearts open, but to guide their heart with authentic and studied facts. I am teaching them to read EVERYTHING so they have many sides to a story and can talk to anyone without a lack of the aforementioned knowledge. I am teaching them that they will never always agree with everyone but that it is their job to see both sides of a coin in order to be more critical and compassionate thinkers.  I am teaching them that it hurts when you don't agree with someone you love/admire/have known for years and that sometimes growth means changing your views on others and growing in to those new views with a keen and watchful eye. I am teaching them to stand up for what they believe in with passion and confidence and backing those feelings with facts. I am doing the best damn job I can to teach them that their voice is loud enough to make a change No one's voice is worthless and we need to stop silently implying that instead of admitting me are scared of what our voice might say or how others may react. I am also teaching them that the things I am teaching them are things I am still learning and practicing myself.
I believe in teaching. That is my vow for 2017 and as long as I can.  I believe in teaching for change.
So let's keep it clean, 2017. Let's do more, see more, feel more, love more, educate more, push ourselves more, hug more, laugh more, snuggle with puppies more…
and eat more Trader Joe's Peppermint Candy Joe Joes cookies. Seriously, they ARE SO DAMN GOOD.